Host Family Program
The ILI Host Family program is an exciting and rewarding experience! International students add an interesting flair and perspective to a Canadian home. It is an incredibly gratifying experience to open your home to an international student and share your experiences with them.
You might also be surprised by how much you will learn from your students. Many host families keep in touch with their former students for years to come.
To offset expenses incurred by hosting a student in your home, ILI provides a monthly room-and-board payment. Please contact us for the current rates.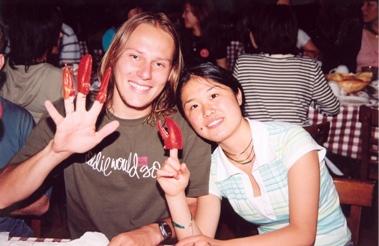 Requirements
ILI makes every effort to provide the most appropriate match between the host and the student so that experiences for both student and family are optimal. The ILI Host Family Program strives to provide international students with accommodation and meals in a supportive, Canadian environment. ILI hosts are expected to: help students learn about the Canadian way of life by sharing their experiences; help students with their conversational English by speaking with them every day; make an effort to help students meet and make friends with Canadians outside the ILI environment. Students are expected to be treated as members of the household.
Becoming an ILI Host Family is quite easy. Families must
be close to bus route and within a 45-minute bus-ride to ILI.
provide a private room with window, bed, dresser, and desk
provide 3 meals per day, seven days per week
FAQs
Host Family Frequently Asked Questions
What are my responsibilities as a student host?
Host families must provide a student with a private bedroom, which includes window, a bed, dresser, desk, and a lamp. Students must have access to a washroom, kitchen and laundry facilities. Host Families must also provide breakfast, lunch and dinner for students each day. Host Families are expected to help students with their English, primarily through conversation at home. It is also nice to show students some of our culture such as visiting tourist attractions, attending cultural events, or watching a local sporting event together.
How long do ILI students stay with a host?
A student's stay in Canada varies depending on their level of English and goals for learning English. Most students stay about three months, though some stay only for four weeks, while others stay for over a year.
Where are most students from?
ILI has a real cultural mix of students from countries such as Korea, Japan, Mexico, Brazil, Saudi Arabia, The United Arab Emirates, China, Taiwan, Germany and Italy.
How much am I compensated for expenses?
ILI compensates hosts with a bi-weekly payment to cover the additional food and entertainment costs associated with having an international student in your home. For information about the current rate of payment, please contact us.
Can I make any specifications for the kinds of students I would most like to have?
Certainly. Our student host program coordinator makes a great effort, when placing students, to ensure that it is a good match. Some Host Families prefer having boys or girls only. Some students prefer a host with or without children. When you apply to ILI to host a student, we will give you an opportunity to state your preferences and take them into consideration when placing students in your home.
Do I have to provide transportation to school for students?
You do not have to provide transportation for students to and from school. However, we do ask that your residence be in a reasonable distance by bus (about 30 minutes). You are expected to escort the student to and from school on their first day at ILI, and show them which bus route to take and how to use the bus.
What is required of me in terms of meals and food?
You are expected to provide students with 3 meals per day, seven days a week. So, you will have to pack them a lunch. Most students enjoy Canadian food, but may ask you to pick up some special groceries for them. Asian students cook rice daily, so investing in a rice cooker is a good idea.
If I am accepted into the ILI Host Families Program, will I get a student immediately?
The number of students at ILI increases in the summer and decreases in the winter. ILI does not guarantee that you will always have a student, as it depends on how many students we have and the preferences of these students.
How do I go about becoming a host family?
Applying to become an ILI approved Host Family is quite easy and you can submit your application in a variety of convenient methods. Select 'Application' on the left-menu for instructions, or click the button below.